We are amazed by how God has blessed us.
They call it the blessing house, the quaint single-story brick-accented beige home lined with shrubs at the end of the cul-de-sac. Each nail pounded in the wall, each stroke of paint, each shingle hammered in place by one-time strangers, now friends, symbolizes a blessing to Harold and Kathleen Moore.
Now, using the Habitat for Humanity of Morgan County structure as a ministry, the Decatur couple aims to pay the blessings they received forward. Since moving to the home in July, the husband and wife hosted a fall festival with stations for pumpkin painting and bobbing for apples and scheduled a Christmas party for the entire neighborhood.
"Where God has planted you, that's where your ministry is. God planted us here. We want to start being a blessing in our neighborhood. There is so much bad happening in the world, you've got nuclear war threat, you've got gun violence, I feel like we need to pour more and more positivity into the people around us," Kathleen Moore said.
That mentality appears throughout the home — in the "Love one another as I have loved you" stencil painted on the wall and the wooden signs with the charges "Pray big, worry small" and "Trust God, love one another."
Like many families, on Thursday, Thanksgiving, the Moores will gather with loved ones at their southwest Decatur home for a day of gratitude. Looking back at the past year, Harold Moore struggled to put his thankfulness into words.
"Where do I start?" he said with a shake of the head.
This time last year, Harold Moore was receiving dialysis four times a week due to kidney failure, Kathleen Moore was working a part-time job and caring for her husband, and Mindy Thwing, executive director of the Morgan County Habitat chapter, was wondering how she would tell the couple their home would not be built.
"We didn't have the money to build the house, our donations were low and we didn't see how we could do it. But, as we were getting ready to tell the Moores about the delay, God, like he always does, appeared. You never know where the funding is going to come from, but it comes. We call the Moore home our miracle house," Thwing said.
Habitat for Humanity dedicated the Moore home, the 82nd house built by the Morgan County chapter, in July. The night the Moores moved in, Harold, who had been on the transplant list since his kidneys started failing in 2010 after two emergency surgeries to combat a gangrene infection, received a call about an organ. The kidney from a high-risk donor with a history of drug use turned out unviable, but the call from the UAB Hospital transplant team gave the couple assurance.
"The doctor told us the average life expectancy on dialysis is five years. After six years of being on the list and not receiving a call, we get our first call the night we move into this house. We knew he must be near the top of the list. Habitat jokes that they build miracle houses. For us, it is true. This is a miracle home for us," Kathleen Moore said.
Three days after the first call, the transplant team contacted Harold again. Another kidney was available, this time from a 30-year-old man with a clean history. After three weeks of recovery in Birmingham, the Moores returned to their new home.
"Kidney transplant is not a cure for kidney failure. It's kind of like dialysis, it's a treatment. You don't know if it is going to last two days or 30 years. So far God is blessing us. We've only had to do dialysis in this house once and it was the second day we were here," Kathleen Moore said.
The couple even views the six years Harold Moore spent on dialysis as a blessing. The treatments forced Harold, who worked 12-hour shifts, every day of the week, and Kathleen to re-evaluate their priorities.
"If it wasn't for Harold's kidney failure, we wouldn't have slowed down enough to start going to church together and to really have that relationship with the Lord that we have now," Kathleen Moore said.
Four months into his recovery, Harold, no longer in need of dialysis treatments, is regaining his independence and Kathleen secured a full-time job.
"We are amazed by how God has blessed us. There is no way we would be where we are today without Habitat. With Harold's disability checks and me only being able to work part time so I could take care of him, we barely made ends meet. We had plenty of time, but not a lot of money. That's where Habitat stepped in," Kathleen Moore said.
The Habitat for Humanity homes, which cost $70,000 to build, are not gifts, they are earned, officials said. To receive a home, individuals must complete monthly budget classes, homeowner education courses and up to 400 volunteer hours at a build site or another nonprofit. They also agree to a monthly 30-year, no-interest mortgage.
The Moores credited their 19-year-old son, Michael, with completing the majority of the volunteer hours.
"Michael is a lot of the reason that we have the home. When Harold was not able to be on site because of his health and I was at work, Michael was out with the crews volunteering. I am so grateful to have a son that has that heart and spirit of wanting to help people," Kathleen Moore said.
That spirit of helping extends throughout the family. The Moores plan on using their home for outreach. They hope to host Bible studies for individuals with physical disabilities, show movies on a large screen in their backyard and plant an herb garden for the neighborhood.
"We thought in order to do missions we would have to travel somewhere else. We don't. Right here is our mission field," Kathleen Moore said. "Our mission is to share his love with other people. God has used so many people to share that love in our lives that we just want to pass that forward."
In the photos are Harold and Kathleen Moore and their son, Michael Moore.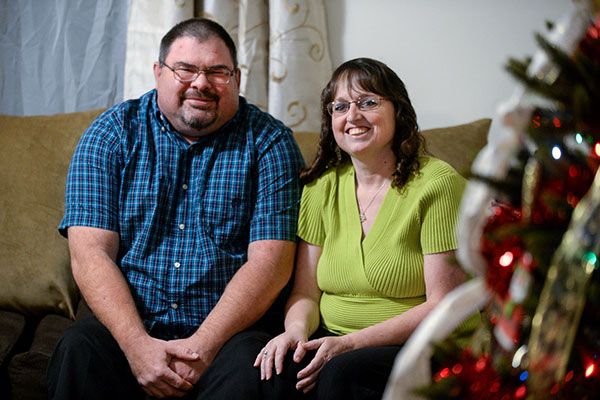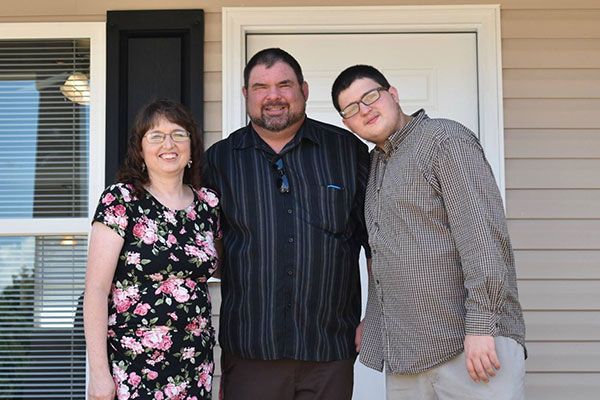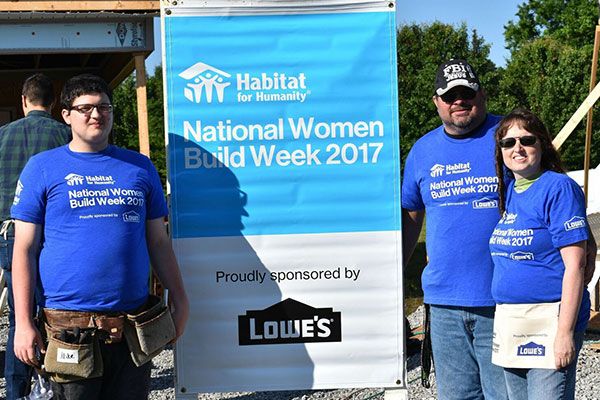 United Way, along with our 30 partners, fights for the health, education, and financial stability of every person right here in Morgan County.
When you support United Way of Morgan County through your workplace campaign or through a corporate or individual gift, you are helping the most vulnerable among us…the young, the old, the sick, and the poor as well as those affected by both man-made and natural disasters. Those people are your neighbors, your co-workers, your family members, and your friends.
United, we can win the fight! Won't you join us?!www.uwmcal.org