Alex Davidson: A Soldier for Salvation Army
"I do not know what is in store for the future, but I know that I will strive to make everyone proud. I have been blessed more than I may deserve. It is my responsibility to represent myself, my daughter, the Salvation Army and all the people who have faith in me."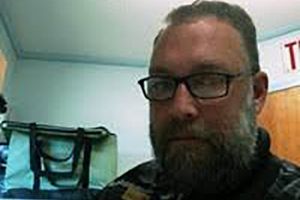 Seven years ago, Alex Davison, penniless, homeless and at the end of an 11 year-relationship with the mother of his daughter, searched for help. At the suggestion of the Decatur Police, he reached out to the Salvation Army, a faith-based nonprofit organization and partner agency of United Way of Morgan County, operates an emergency shelter, food pantry and thrift store.
"We had been staying at a motel and had run out of money. It was either the Salvation Army or the street. At that time, I knew the Salvation Army existed, but I wasn't sure what they did or what their programs were. I went there because I had no other option," Davison said.
That summer day in 2003 changed Davison's life.
Now, thanks to the support of the Salvation Army and the community, Davison, who works and lives at the Salvation Army with his daughter, is on the cusp of earning a degree in computer information systems from Strayer University.
"God has shown me the way through all of this. I found a lot of spiritual guidance and understanding here. I feel like I've become a better human being and a better person over the last seven years. That's what has been most important to me," Davison said.
When Davison stepped inside the Salvation Army's shelter in Southwest Decatur with his former partner seven years, he knew he needed to make a change for the sake of his then 4-year-old daughter. When his partner decided to leave the shelter, Davison stayed.
Captain David Sams, the then administrator of Decatur's Salvation Army, warned Davison of the difficult road that laid ahead.
"Successes can be had. They are very few and far between and that's unfortunate, but it can be done. You have to have a willingness to regain sufficiency for yourself and a motivation to get back into good standing," Davison said. "Instead of looking at the end goal, I took it one step at a time."
Within a month, Davison started working at the Salvation Army's thrift store and living in one of the organization's on-site apartments. Over the next 12 to 14 months, he rang bells during Christmas, worked the security desk at the shelter, was promoted to director of the shelter and, finally, director of social services, a position he still holds today.
As the director of social services, Davison was the one to talk with the representative from Strayer University who walked through the Salvation Army's doors in the summer of 2018. The representative gave Davison brochures about the new higher education facility coming to downtown Decatur and handouts on a scholarship program.
"After reading through the information, I thought to myself, 'Why not me?,'" said Davison, who entered the military after graduation high school. "Over the years, I've learned how paramount education is. I've had many middle management jobs, but there was no way to move up without a degree."
Strayer University named Davison as one of the 50 students to receive a full-tuition scholarship. And in January of 2019, Davison's dream of pursing a college degree became a reality. Davison, who expects to graduate with a degree in computer information systems and a focus on enterprise data management next year, has maintained a 4.0 GPA.
For inspiration, he looks to his daughter, Nina, who, Davison proudly said, earned all A's every term this year.
"She's been my driving force. She's been with me the whole way. I've been helping her with school and she's been watching me succeed. I think it's driven her to get better grades," Davison said. "I want to be a good example for her and I want to make sure she has the opportunities that I didn't have."
As the end of Davison's journey staying at the Salvation Army nears, he looked to the past and how the organization impacted his life.
"Each administration at the Salvation Army taught me something. Under Captain Sams, I learned to cope with the loses I had and to take things step by step. Majors Mark and Rebecca Gilliam were key in helping me find God. And the current administration, Lieutenant Richard and Donna Watts, is key in supporting me in my education," Davison said.
After graduation, Davison hopes to land a job that will help him better provide for his 12-year-old daughter. He also hopes to give back to the Salvation Army and the city of Decatur.
"I do not look back on the time I stayed in the shelter as an embarrassment, instead, as the opportunity I needed to regain control of my life," Davison said. "I'm a shining example of the fact that you can get your life back together if you put your mind, your heart, your soul, everything into it."
United Way, along with our 30 partners, fights for the health, education, and financial stability of every person right here in Morgan County.
When you support United Way of Morgan County through your workplace campaign or through a corporate or individual gift, you are helping the most vulnerable among us…the young, the old, the sick, and the poor as well as those affected by both man-made and natural disasters. Those people are your neighbors, your co-workers, your family members, and your friends.
United, we can win the fight! Won't you join us?! www.uwmcal.org